In this webinar David Rose talked us through the journey one might expect when leading and managing Enterprise Architecture (EA). EA is fundamentally about change, the way organisations and people do things and the behaviours they exhibit – a tough challenge!
The webinar provided a birds eye view of the management journey, highlighting considerations along the way and providing detail based upon the experiences of past JISC projects. If you are undertaking EA, hearing about the journey already travelled by others should help you define your own path!
The webinar was just under two hours long and on the included a brief mid-webinar break. When watching the recording, we suggest dipping into specific sections of relevance to you. Below are start times for the three main sections:
Engaging Colleagues (57mins—1hr 10mins)
Managing Benefits & Impact (1hr 11mins—1hr 31mins)
Governance (1hr 32mins—1hr 48mins)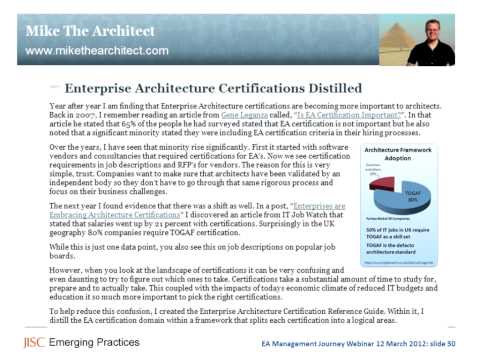 This webinar was delivered and recorded on 12th June 2012.

Resources
The following is a list of links shared by the webinar's participants.