Increasing the synergy between strategy and technology
UK Higher Education, Further Education and Skills are experiencing, and will continue to face, major challenges as a result of political, socio-economic, demographic and technological pressures. The necessity for institutional leaders and senior management to deliver clear institutional vision and corporate strategy has never been greater. Information and Communications Technology (ICT) continues to be acknowledged as a major factor in organisations realising their aims and objectives; consequently, ICT has an important role in the mobilisation of an institution's strategy.
Funding is down across the sector, organisations are becoming more businesslike, and therefore information is vital. IT is now part of an organisation's foundations and, as previously mentioned, EA is the perfect world. (David Rose, 2012)
In response JISC and the Leadership Foundation funded the development of the Strategic ICT Toolkit in 2010. The aims were:
to develop more constructive alliances
to provide improved knowledge and insights relating to ICT, and its value to the institution
to improve decision making relating to institutional and ICT strategy
to consolidate the research and knowledge already available on this topic
Getting started
If you're interested in using the toolkit we'd thoroughly recommend viewing the webinar below, which took place on Wednesday 7th December 2011. It provides an introduction to the toolkit and the experiences of the University of Central Lancashire.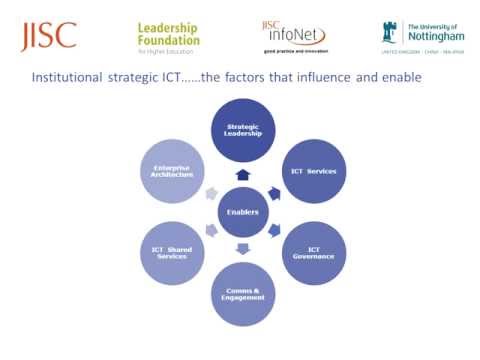 The toolkit itself is hosted by The University of Nottingham: Strategic ICT Toolkit (online) and everything else you need to know is available there. However, if you do have any further questions about the toolkit email JISC infoNet, jiscinfonet@northumbria.ac.uk.
A number of currently-funded projects under the JISC Transformations programme are using the Strategic ICT Toolkit. We will summarise their experiences in a later post.
JISC Emerging Practices aims to support UK Higher Education, Further Education and Skills in becoming more strategic in their deployment of ICT across the organisation. Where possible we're beginning to surface emerging and best practices from across the sector in relation to the strategic enablers outlined within the toolkit: strategic leadership; ICT services; ICT governance; communications and engagement; ICT shared service; and Enterprise Architecture. To date, our focus has been very much on Enterprise Architecture; however consideration of some of the other enablers will follow soon.